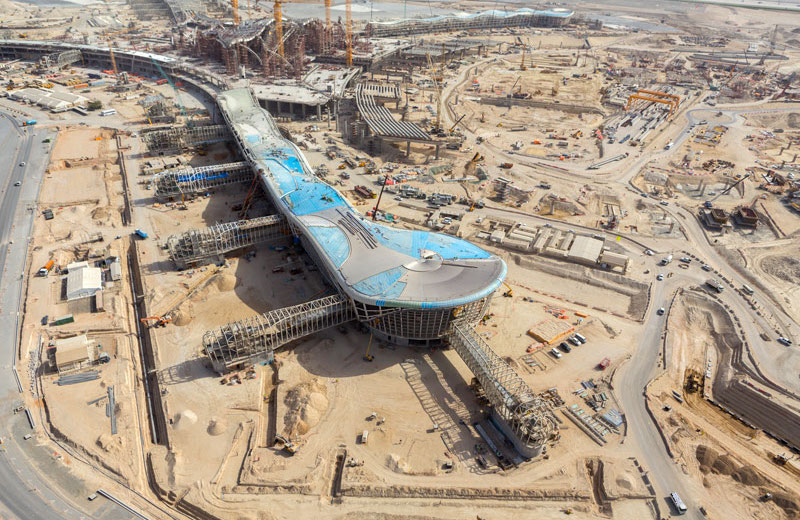 Changi Airport – New Terminals – Singapore
NDIA Airport – Hamad International Airport – Both Infrastructure works and Main terminal.  Doha, Qatar
Chek Lap Kok – Terminal building and associated Infrastructure. Hong Kong
Al Maktoum International – United Arab Emirates
Lao International – Airport Upgrade
Phnom Penh International – Airport Upgrade
Dubai International Airport – New Terminal Building – United Arab Emirates– United Arab Emirates
At jackson Scott we have been providing staffing for Airport construction projects both within Asia and within the Middle East – Airport developments are complex and challenging and as a professional in the construction industry, if you are looking for work on airport infrastructure projects do get in touch. Airport Expansion and upgrade projects include significant developments such as runway extensions, terminal upgrades, new concourses, and additional aircraft parking facilities to deal with passenger numbers.
Sustainability in Airport Construction – Airports are no exception and need to be sustainable, so they include eco-friendly design principles, energy-efficient technologies, and renewable energy sources into their construction projects.
Overcoming Construction Challenges: Airport construction projects often face unique challenges due to operational constraints, complex logistics, and the need to maintain uninterrupted air traffic during a live airport. During a new build it presents a different set of challenges and the project managers, architects, Engineers, Quantity Surveyors and the full construction teams are needed to minimizing disruptions to airport operations during construction.
The world of airport construction is a captivating blend of engineering prowess, architectural excellence, and logistical complexity. Jackson Scott Technical staff has been involved on Searching, Recruiting and resourcing Commercial, Technical Engineering Talent on Airports throughout Asia and the Middle East, making us aware of the challenges of working on such demanding infrastructure and building projects.